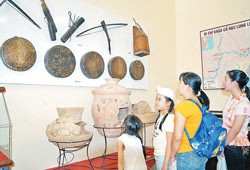 Visitors watch exhibits of the prehistoric Lung Leng
The HCMC Historical Museum opened an exhibition in Ho Chi Minh City Saturday, displaying ancient exhibits of the Central Highlands' archaeological site of Lung Leng.
The theme of the exhibition is "Lung Leng - Mystery of Pre-historic Centrals Highlands".
Lung Leng is located in Sa Binh commune of Sa Binh district in Kon Tum province. It was excavated in 1999 and 2001 in an area of 11,500 square meters and is one of Viet Nam's biggest-ever archaeological excavations with 14,552 stone objects, 224 pottery objects and 37 metal objects.
The exhibition displayed around 500 objects sorted out into various collections such as paleo-lithic tools, neo-lithic tools, pottery, ornaments, Gong (cong chieng), alcohol jars, and ethnic costumes.