Following the successful Dem Hoang Cung (Royal Night) shows during the Hue Festival 2006 and the three recent Royal Nights held on March 26 to 28, the Hue Relic Preservation Center has decided to make the show a monthly event aimed at entertaining tourists.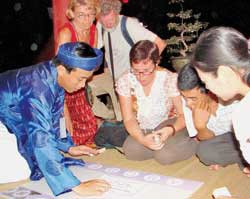 Foreign visitors are learning about a Vietnamese folk game in the royal night.
The show will take place on the 14 - 16 of the lunar month, during the full moon, at the Can Chanh Palace located within the Dai Noi (Great Enclosure) of Hue.
The evening shows will feature special performances including Nha Nhac (court music), royal dances, classic Hue drama performances, calligraphy and Nguyen Dynasty antique displays, banquets, demonstrations of tea-making and the best way to enjoy tea, together with interesting folk games.
The organizers hope that Dem Hoang Cung will help to promote tourism in the Thua Thien Hue Province, attracting a great number of visitors to Hue.