Of the 48 beautiful girls, who were all born in the 1980s, entering the final round in the South on August 6 at Sai Gon Hotel, 41-47 Dong Du Street, 17 were selected to take part in the national final round, held at the VinPearl Resort and Spa (Hon Ngoc Viet) resort on Tre Island of Nha Trang City on August 16-25.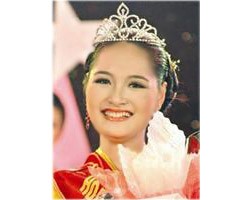 Tran Huong Giang, Miss Hai Duong, will take part in Miss Viet Nam 2006 contest
There were no winner and first and second runners-up because all the 17 contestants were equal, said the organizer.
A member of the organizing board, Mr. Hoang Tu Hung, Standing Vice-chairman of Viet Nam's Anthropometry Association, said that the 17 selected beauties all attained the standards of anthropometry, shape, form, posture and expressive performance ability.
The candidates in Northern provinces will compete on August 9-10 at the Tien Phong newspapers office at 15 Ho Xuan Huong Street, Ha Noi.
Of over 3,000 entrants nationwide, who have registered to compete in Miss Viet Nam Contest 2006, more than 10 are Viet kieu (oversease Vietnamese), the organizers of the event announced at a press briefing.
The contestants will join the national final round at the VinPearl Resort and Spa (Hon Ngoc Viet) resort on Tre Island off the coast of Nha Trang from August 15 to 26.
The winner will be awarded VND80 million and a tour to Japan, the first runner-up will receive gifts worth VND60 million and a tour abroad and the second runner-up will receive VND40 million.
There will be about 20 entrants selected at the final round in the North; thus, approximately 40 contestants will sit for the national final contest.
The interesting thing is the presence of overseas Vietnamese who have won prizes in the beauty contests in foreign countries.

Link:
Miss Central Highland Contest 2006 Opens