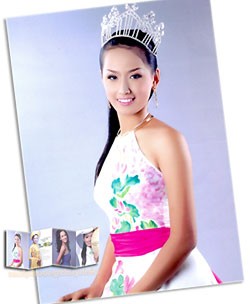 Miss Viet Nam Mai Phuong Thuy
Journalists from 20 newspapers and magazines in Viet Nam have selected this year's top ten cultural events in the nation.
1. World Trade Organization entry
Viet Nam's WTO accession in early November will result in changes of cultural services and trading cultural items.
2. Some monopolies in publishing were abolished, more will continue
This leads to fair competition in this area. For example, the Education Publishing House will no longer have monopoly in publishing text books.
3. Intensified international cooperation in music and theatrical activities
4. The National Assembly passed the Movies Law.
5. Game shows on TV programs boomed.
6. Many literature works have drawn big attention from the public.
7. The first festival for theatrical shows by different organizations in line with policy calling for the whole society's contributions to theatrical development
8. The association of fashion models was set up in Viet Nam.
9. Miss Viet Nam Mai Phuong Thuy earned more votes from spectators than any other Asian Miss did in Miss World Contest 2006.
10. A movie done by a private firm won an international award for the first time. Ao lua Ha Dong (Ha Dong Silk Dress) by companies Phuoc Sang, Phim Viet, and Anh Viet earned an award selected by spectators at the Pusan Film Festival in the Republic of Korea.