The fifth Cultural Days of the Northeastern Ethnic Groups, coinciding with the 115th birth anniversary of the northern-most province of Ha Giang, was solemnly open on Sunday in Ha Giang with the participation of more than 1,000 artists and craftsmen and thousands of locals.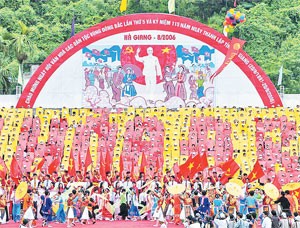 At the opening ceremony of the fifth cutural days of the Northeastern Ethnic Groups in Ha Giang

Amateur actors and actresses brought to the festival their impressive performances that demonstrate diverse cultural features of the highlands. Performance groups from China's Yunnan province also participated in the event.
This is the first time many unique folk festive activities are held outdoors.
The event will last until Wednesday.
Ha Giang is a mountainous bordering province, whose 22 ethnic groups have always united over the past years to protect the country's northern territory, and at the same time strive for the province's socio-economic development.
For such great contributions, the Ha Giang province's Party Committee and people were recognized with the first Labor Order by the State.