The special music show to commemorate the 10th anniversary of composer Trinh Cong Son's death will be organized in HCM City on March 18 and in Hanoi on March 25.
Trinh Cong Son's younger sister Trinh Vinh Trinh said that the program this year will be more special than the previous years because this year is the 10th anniversary of his death. The program will be a series of shows, not a single show.
The show series, called "Bong Nui" (Mountain Shadow) will start at HCM City Theatre on March 18 with the presence of divas Hong Nhung, Thanh Lam, My Linh, Cam Van and young stars like Nguyen Thao, Duc Tuan, Anh Bang and Quang Dung. The shows will come to the Hanoi Opera House on March 25. Tickets will vary from VND1-3.5 million ($50-175).
Trinh Vinh Trinh said that the series will include three shows for students in Hue, Hanoi and HCM City. Saxophonist Tran Manh Tuan and director Pham Hoai Nam will direct the shows.
The shows for students, entitled Hue-Saigon-Hanoi, will feature performances from famous singers Kasim Hoang Vu, Vietnam Idol 2010 Uyen Linh, Phuong Linh, Lan Nha, etc. They will be held at the Hanoi National University on March 27, Hue on March 30 and HCM City National University on April 7. Tickets are free.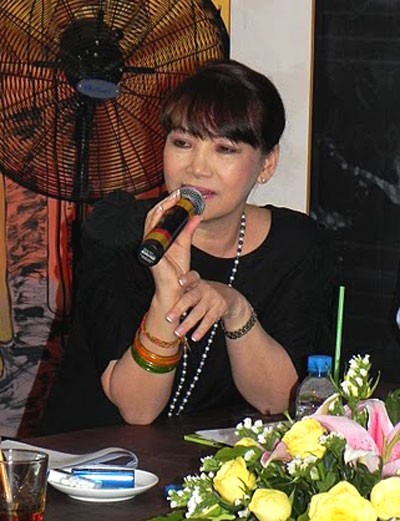 Singer Trinh Vinh Trinh, Trinh Cong Son's younger sister
Trinh Vinh Trinh may perform a Trinh Cong Son's song to thank the audience and artists who have supported her family.
Trinh Cong Son (February 28, 1939 – April 1, 2001) was a Vietnamese composer, musician, painter and songwriter. He, along with Pham Duy and Van Cao, is widely considered one of the three most salient figures of modern Vietnamese music.
Trinh Cong Son wrote over 500 songs, and, during the 1960s and 1970s, Joan Baez dubbed him the Bob Dylan of Vietnam for his moving antiwar songs. Hundreds of thousands of people gathered at his funeral in HCM City, for a spontaneous ad hoc funeral concert, making such a spectacle the largest in Vietnamese history. His music remains very popular among both old and young Vietnamese.