The British Council is putting on UK Splash! – a celebration of UK education and cultural links – in Viet Nam all this month.

Starting the proceedings is UK Film Week, a week of some of the best and most creative contemporary British films from children's cartoons to touching stories about remarkable people. It brings a little of the UK to Viet Nam. There is no charge for tickets.

Next, British Council Open Day is a day to experience UK culture (film, fashion, and food) on October 2 at the British Council, 25 Le Duan Street, District 1, Ho Chi Minh City.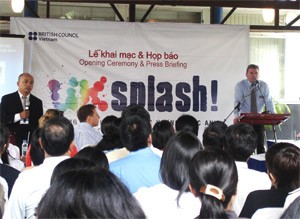 Mr. John Wales deliveres speech at the British Council Open Day(Photo:U.Phuong)
The British Consulate General's acting consul general, Mr. John Wales, Director of the Ho Chi Minh Education and Training Department Mr. Huynh Cong Minh, and British Council director Mr. Shaun Waller participated.
The third event is "Banking in Viet Nam & Career Opportunities in the Banking Industry" presented by HSBC's chief operating officer Mr. Martyn Porter on October 5 at the Windsor Plaza Hotel, 1 Su Van Hanh Street, District 5, Ho Chi Minh City.
On the same day, Cambridge ESOL will open an office at the Sofitel Plaza, 17 Le Duan Street, Ho Chi Minh City.
A week-long training session, MediaNet, for selected young and dynamic Vietnamese journalists delivered by the UK's world-famous Thomson Foundation, made possible by the support of the Vietnam News Agency, and funded by the UK's Foreign and Commonwealth Office.
Vietnamese people who are keen on street entertainment can enjoy live acts, sidewalk portrait paintings, acrobatics, juggling, stilt-walking and graffiti art in UK Street Culture Day on October 15.
The seventh annual Education UK exhibition will offer the public a chance to meet representatives of more than 60 UK colleges and universities.
The Professional Conference on the English Language & Assessment in the Tertiary Sector will be held by the Vietnam National University (VNU) Ho Chi Minh and Cambridge ESOL and supported by the British Council on 27 October in the university's headquarters.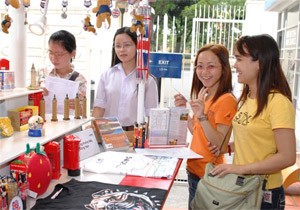 Visitors show their interests at the Open Day (Photo:U.Phuong)
Education administrators, researchers, lecturers, ELT professionals and employers will discuss the current situation of English language teaching, the need for a standardized and internationally validated assessment tool, English requirements of the labor market and the level of proficiency of university graduates.
The finale of UK Splash celebration will be hip-hop artist Akala's concerts on October 27-29.