"Market of Lives", a drama written and directed by Viet Nam-born Australian Le Quy Duong, will be officially performed in Ho Chi Minh City on Wednesday as part of the National Theater Festival 2006.
The play has been previously performed in Ho Chi Minh City. Dr. Tran Van Khe, a world renowned musicologist, reflected that "it's moving the writer has chosen a sensitive topic in the current setting and takes an earnest look back at a period when the people sacrificed their own happiness to resist invaders, in turn saving the country and regaining national independence."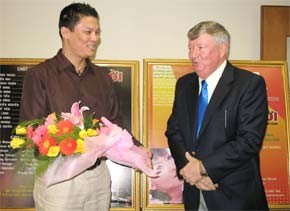 Australian Consul General Mal Skelly (R) congratulates director Le Quy Duong at the reception (Photo: Tuong Thuy)
The Australian Consulate in Ho Chi Minh City held a reception for the actors, actresses and director to discuss the play with select guests and media representatives on Monday.

At the gathering, director Le Quy Duong, who moved to Australia in 1993 and eventually became an Australian citizen, expressed his thanks to the Australian Government for its support of his career.
Australian Consul General Mal Skelly said, "I'm very happy that the Australian Consulate is able to support Mr. Duong, a Vietnamese–Australian writer/director, who has had great success in Australia and returns to Viet Nam to make his contribution for the enrichment of cultural life."
"Australia has been proud to consider itself an innovative country and we are always keen on supporting young people such as Mr. Duong who take the initiative to explore new developments in the field within which they work," added Mr. Skelly.
Actresses and actors in the play include Hien Mai, Chanh Thuan, My Dung, Tan Hung, Huu Tien and singer/actor Minh Thuan. "Market of Lives" (Cho Doi in Vietnamese) will be performed at Hung Dao Theater on Tran Hung Dao Street in District 1.
Le Quy Duong has successfully set up many large theater programs at international art festivals in Australia and Viet Nam.
He said at the reception that he plans to direct three plays between now and 2008. The first is about the future relationship of human beings and robots, while the second is about the ego. Both are based on original stories by Vietnamese authors. The third play will be either King Lear or Don Juan in Vietnamese, but which one has yet to be decided.