The People's Committee of Lam Dong Province has announced the opening of the bi-annual Da Lat Flower Festival from December 30 to January 3, 2012.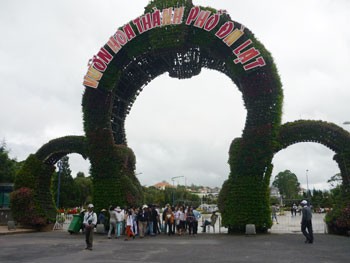 Da Lat Flower Park. (Photo: KK)
The event, "Da Lat: city of a thousand flowers," will present to national and international visitors its vast variety of flowers along with many cultural activities. 

A flower exhibition will be held on Ho Tung Mau and Le Dai Hanh Streets, alongside the Xuan Huong Lake, Ba Huyen Thanh Quan Park and Lien Khuong Airport. The Da Lat flower market, an international flower exhibition introducing famous flowers from the region will be displayed at the Da Lat Flower Park. Music events, fashion shows, an international trade-expo, a seminar on flowers and a night wine festival will also be part of the Festival.

There will also be a flower road display at the Palace Hotel and tours of flower villages, fields, valleys, hills, villas and a trade village fair. A gala night of street dances and flower balloon performances will also be part of the Festival celebrations.
One of the highlights of the Festival will be a flower bridge, themed "Europe in the city of a thousand flowers". For this, the Ong Dao Bridge will be decorated with flowers and installed with LED lighting.
Organizers are hoping that the Ong Dao Flower Bridge will be recognized as "Vietnam's most beautiful flower bridge".
Da Lat flower festival is an important event for the region as not only does it highlight the beauty of Da Lat flowers and promote Da Lat flower growers, it also boosts the local flower industry and acts as a center for local and international flower lovers and growers to interact and exchange experiences.
The festival was organized for the first time in 2005 and subsequently held every two years.