Preparations are now complete for the opening ceremony of the fifth Da Nang International Fireworks Competition 2012 on April 29, in the central city of Da Nang.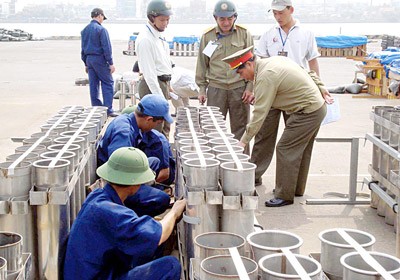 Vietnamese team prepares for the fireworks competition (Photo:SGGP)
The competition event themed 'Colours of Da Nang' will have past champions participating, from Canada, China, France, Italy, and host Vietnam.
City authorities in Da Nang are working hard to put the final finishing touches for the Fireworks Competition. A grandstand that will seat 32,000 spectators, 7,000 more than last year, has been constructed over 12,000 square metres along the east bank of the Han River. The city's tourism board expects to welcome more than 4,000 visitors for the event.
The host Da Nang team will present a five part creative performance on Vietnam's thousand-year history of national reconstruction and defence and showcase the beauty of the country, accompanied by popular revolutionary songs to reflect the joy of Vietnamese people for the forthcoming Reunification Day on April 30.
The Da Nang International Fireworks Competition promises to light up the Da Nang night sky with a spectacular display, a glittering ambience, blended with music and sparkling colours that will reflect on the Han River. Da Nang city will resounded with spectator cheers enthralled by this colourful fireworks and a diverse cultural spectacle.
As seen in the previous four successful firework competitions, Da Nang City has already established its image as a tourist city and an attractive destination for visitors from both home and abroad.
Da Nang International Fireworks Competition 2012 will be broadcast live on VTV Da Nang, VTV1 and VTV4 channels.