The 7th Da Nang International Fireworks Competition (DIFC) 2015 will take place in the central city on April 28-29, t he municipal People's Committee announced on January 30.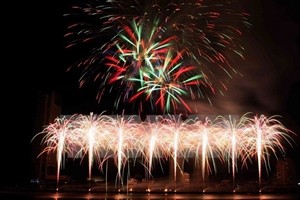 (Source: VNA)
Themed "Da Nang – A symphony of Colours", the event is expected to feature spectacular performances by five teams from the US, South Africa, Australia, Poland and the host Vietnam , who won numerous awards at other international fireworks display competitions.
Many sideline activities will be held during the event, including a food festival, decorative lighting, a flower boat parade and beach sports.
According to the organising board, the Da Nang International Fireworks Competition will be advertised on StarWorld, National Geographic and BBC Asia.
Launched in 2008, Da Nang is the only city in Vietnam to host the annual competition.