A project on contemporary dance will be implemented in Vietnam in 2014 with support from the Danish-Vietnamese Cultural Development and Exchange Fund (CDEF).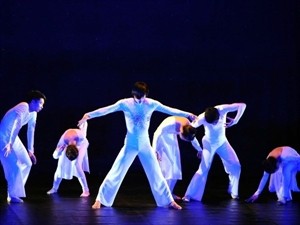 A performance of Noi Den dance troupe in 2012 (Photo: VNA)
Director of Noi Den (Destination) dance troupe Le Vu Long told the media on March 20 that the project will provide audiences with an insight into 1970s Vietnam.
It will focus on less familiar human-related issues in the period.
The first performances will be held at the Hanoi Opera House on March 25 and 26, with the presence of renowned choreographers such as Quach Hoang Diep, Nguyen Dung and Tran Ly Ly.
Considered as the first contemporary arts troupe in Vietnam, Noi Den was established in 2002 with most of its members being deaf artists living in Hanoi.-VNA