On the tenth day of the third lunar month the Vietnamese people celebrate the death of the Hung kings, the legendary founders of the nation.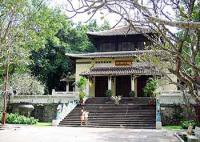 The Hung Temple in the grounds of Saigon Zoo in HCMC
From this year the special day is a public holiday so on Thursday April 26 the People's Committee of Ho Chi Minh City will put on a lavish do at the Hung Temple in the grounds of Saigon Zoo.

The Department of Information and Culture says there will be ceremonies and festivities. As always, the most important ritual will be the offering of incense to the Hung kings.

After the solemn part, there will be speeches, dragon dances and such, followed by folk games and other entertainment. There will also be a food fair, an artistic display of fruit and a calligraphy exhibition.
Suoi Tien Park on the outskirts of town is doing its bit by spending more than VND4 billion to do up the Hung Kings Temple at the top end of the theme park.

Some 4,000 banh chung (square glutinous-rice cakes) will be offered to the fabled kings of old and 1,500 musicians and dancers will perform traditional music.

At Dam Sen Park on the other side of Ho Chi Minh City, a team of cooks and kitchen hands created a 2.6-ton banh chung and a 1.2-ton banh day (round sticky-rice cake) for the main celebrations at the temple of the Hung Kings in the northern province of Phu Tho from April 22 to 26.
Having sent the two gigantic food offerings on their journey to the north, the team made another monster banh chung for Thursday evening's rituals and festivities in Dam Sen. After offerings are made to the founders of the Vietnamese nation, the cake will be shared among the park's many visitors.

The Hung Kings Temple Festival attracts pilgrims and curiosity seekers from all over the country. For many of the travelers it is a trip back in time to the origins of the Vietnamese nation.

Sitting atop Nghia Linh Mountain in Hy Cuong commune, Phong Chau District, the Temple of the Hung Kings is not just sacred to every Vietnamese person, it is a place of great historical importance, of wondrous architecture and timeless beauty.