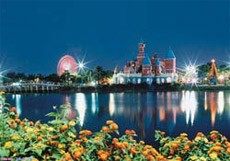 Dam Sen Park
The dragon boat race "Direct to Ancestral Land" is being organized in Dam Sen Park on April 6 - 7, 2006. It is opened for schools, governmental offices, organizations, hospitals, companies… in the Ho Chi Minh City to take part in.

The race will be about rowing a boat to the finish line first, in the right direction, expressing fine rowing movements, the strength, resistance and perseverance.
Besides, on the Hung Kings' anniversary (*) on the March 10, 2006 of the lunar calendar, there is a special performance of Cai Luong (a traditional kind of Vietnamese Folk Musical) themed "Vietnamese Soul".
On this occasion, the female congregation of Tran Hung Dao temple and Ho Chi Minh City's traditional kung-fu Association with 3000 students will perform traditional rites to pay homage to and commemorate Hung Kings.
(*) Emperor Hung Vuong was the founder of the Vietnamese nation nearly 50 centuries ago. The dynasty with 18 kings lasted more than 3000 years and led Vietnam to development and progress in peace. To honor the Founding Fathers, the Hung Vuong National Altar was built in 250 BC in Phu Tho (North Vietnam), and has since been a popular tourist site in the country.
(Source: www.trucxanh.org/myvsa/htmls/hungvuong.html)