According to Dr. Dinh Ba Hoa, vice director of Binh Dinh Museum, four couples of lion bas-relieves were found in Binh Lam tower, Phuoc Hoa village, Tuy Phuoc District, Binh Dinh Province by museum's officials when they cleared the site to keep the tower from the damage on March 27, 2006.


The bas-relieves were carved around the outside of the tower's first floor. Binh Lam tower's architecture was considered the transition from My Son A1 style to Binh Dinh style of the first half of the 11th century. This discovery all the more has to affirm the exactitude of the date.
The bas-relieves were carved with four different postures lively. Two couples were taking a step forward, curving their tails up.
The other couples were also stepping forward, turning their heads around and showing laniaries cruelly. The first part of the tails was rather curved, while the end dropped.

It can be said that they are the most beautiful and undamaged lion bas-relieves of the Champa architecture in Binh Dinh Province.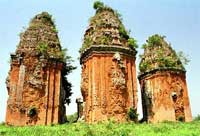 Binh Lam Tower