Truyen Kieu (Tale of Kieu), a masterpiece of Vietnamese classic epic poetry by the great Vietnamese poet Nguyen Du will be translated into the Russian language to mark the 250th birth anniversary of the author and UNESCO's recognition of Nguyen Du as a world cultural celebrity.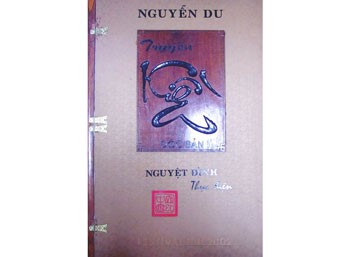 Truyen Kieu recognized by the Vietnam Record Book Center-Vietking and is presently on display at the Nguyen Du Memorial Site in Tien Dien village in Nghi Xuan District of Ha Tinh Province. (Photo: Sggp)
According to the Department of Culture, Sports and Tourism in Ha Tinh Province, the work will be translated by Dr Nguyen Huy Hoang of Moscow State University.

Truyen Kieu has the most number of translations in more than 30 languages. The classic literature is a unique work containing verses which are divided into hundreds of short poems.

The epic poetry has the most number of serials written by writers who have fallen in love with the epic poem, including the oldest work titled 'Dao Hoa Mong Ky' composed in 1917.

The literary masterpiece tells a tragic tale of a woman of great beauty and talent whose fate turns tragic. The young lady named Vuong Thuy Kieu is forced to sell herself to save her family, even though she is very learned. She overcomes many hardships in a lifelong pursuit of her doomed lover Kim Trong.

Truyen Kieu is a unique work that has created a 'Kieu culture' such as telling of fortunes from a text of the Kieu story and writing of poetry inspired from the tragic life of Thuy Kieu.