The sixth festival celebrating the culture, sports and tourism of ethnic groups in the North East ended on the evening of December 14 in Bac Giang Province.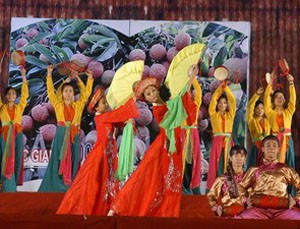 Artists performing at the openning ceremony on December 12 in Bac Giang province. (Photo: Vietnam+)
At the closing ceremony, the organization board granted awards to excellent artists, actors and athletes.
Fifty-one other awards were distributed, with first prizes for gastronomy going to Quang Ninh, Bac Kan and Lang Son provinces.
Six provinces were awarded first prizes in the culture category.
The first prize for displaying exhibitions to advertise Vietnamese tourism was given to Phu Tho, Bac Kan, Thai Nguyen, and Ha Giang provinces.
The first prize for organizing traditional festivals was granted to the provinces of Ha Giang, Bac Giang, Phu Tho, Tuyen Quang, and Cao Bang.
The organization board also granted many awards for crossbow shooting, wrestling and tug-of-war.
With many cultural, sports and tourism activities highlighting the specialties of different ethnic groups, the three-day festival gives people a chance to meet and exchange knowledge about the beauty of Vietnam and Vietnamese and contribute to greater national unity.
The festival of culture, sports and tourism of ethnic groups in the North East is held every two years by the Ministry of Culture, Sports and Tourism to honor, protect and develop the national character of ethnic groups in the North East.