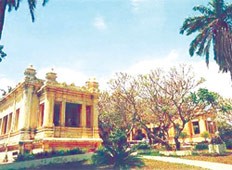 The Cham Museum in Da Nang
The Council of Nord de Calais (France) provided the People's Committee of Da Nang EUR 65,000 for the upgrade of the Cham Museum.

The project will be carried out from now to the end of 2007.
It focuses on staff training, preservation and search for the Cham cultural artifacts scattered everywhere.

It is the unique Cham museum in Viet Nam which has in its collections 450 historical objects related to Champa's culture.
Related Article: