Reportedly according to Mr Le Giao, a member of the HCMC Catholic Solidarity Committee, Christmas activities such as decorating, building rock cave replicas of where Jesus was born, wearing Santa Claus suits were initiated earlier than previous years.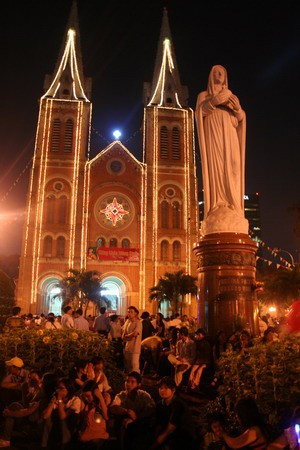 The HCMC's Notre Dame Cathedral on Christmas Eve.
A main ceremony was held at the Notre Dame Cathedral and across from other churches on 24th of December.

Some social activist groups visited and gave free medicine to ethnic people in Tay Nguyen and Soc Trang, and gave presents to AIDS patients in the Mai Hoa Center, and dioxin patients taken care of by the HCMC Catholic Solidarity Committee in Thien Phuoc Center and Cu Chi.

Other groups visited and gave presents to the orphans and leprosy patients. Mr. Giao believes these are meaningful acts celebrating the birth of Jesus.

At parishes in Tan Binh District, Go Vap district and District 8, Christmas activities were prepared. "The Christmas Road", a 2-km strip of Pham The Hien Street, District 8, has been decorated with lights. Lighted rock caves replicas line the road at night.

At Dam Sen Park, a concert, The Red Christmas, is being held in the Water Music Centre. A 20-meter, log-shaped cake was at Au Lac Square. Dam Sen's management board said the cake named "New Millennium" and made by the Hy Lam Mon Bakery is the biggest Christmas cake in Viet Nam. The 5-ton cake was served Christmas Eve.

December 23, Fatherland Front Chairman Pham The Duyet paid a visit to Ke Sat and An Quy parishes, congratulated folks and handed out presents.
The chairman wished the priests and parishioners a merry Christmas and reportedly lauded their contributions supporting campaigns building the "cultural lives" of residential zones and helping the poor.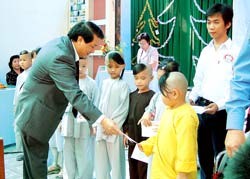 Mr. Lok Wok Luen, General Director of Sun Wah Properties Viet Nam gives VND10 million to disadvantaged children in HCMC.
Hong Kong Shanghai Bank Viet Nam organized a Christmas party for blind children at Nguyen Dinh Chieu School, the second annual party HSBC has held for blind children at Christmas. The Bank founded an audio-book library and contributed VND90 million to publish Braille textbooks for students.
December 22, Vie Nnam Land SSG and Sun Wah Properties Viet Nam held a Christmas party for disadvantaged children at Department 2 of the Organization for the Support and Education of Disadvantaged Vietnamese Children (OSEDC).

The organizers contributed over VND25 million in scholarships and 50 presents to orphans and the disabled. Lo Kwok Luen, General Director, Sun Wah Properties Viet Nam, personally gave VND10 million.