An exhibition featuring President Ho Chi Minh's journey to national salvation opened in Hanoi on June 3, in celebration of the 105th anniversary of his departure abroad to seek ways to save the country (June 5) and the 126th anniversary of his birth (May 19).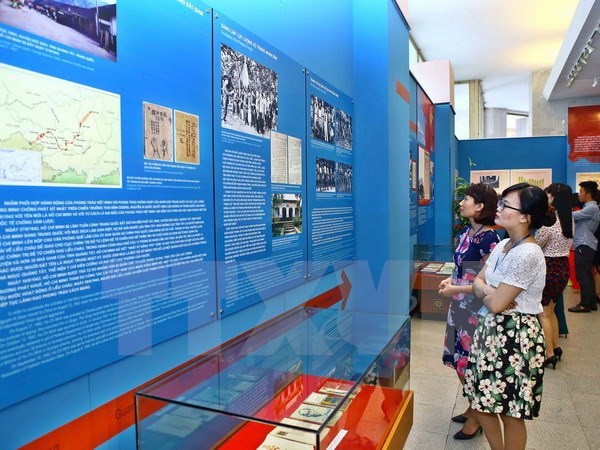 At the exhibition
Nearly 200 photos and materials on display will give an insight into the hardship endured by the late President and his contributions to national development.
Known in those days as Nguyen Tat Thanh, Uncle Ho made the decision to go abroad in 1911 and travelled to discover the pathway to freedom, to be awakened to Marxism-Leninism and become a communist devoted to the entire Vietnamese people.
The first great turning point was Uncle Ho's departure in the summer of 1911, when he was 21 years old. On June 5, 1911, he left the nation on the ship, Admiral Latouche Treville using the name Van Ba and began to earn his living by working at various jobs, while self-educating and exploring other peoples realities. He gradually took part in the struggles of workers and people in places he visited.
June 5, 1911 was an especially significant milestone, not only in the life of a person, but also the history of a nation. At that time, Nguyen Tat Thanh himself neither understood that he was shouldering a great national historical task, nor knew that on that day an extremely sacred mission had been assigned to him.
With strong will, intelligence and talent, he led the Vietnamese revolutionary movement to follow the orbit of a proletarian revolution. He set up the Communist Party of Vietnam and prepared the necessary conditions to bring national liberation to final victory.
Under the leadership of President Ho Chi Minh, the Vietnamese people successfully conducted the August Revolution in 1945, giving birth to the Democratic Republic of Vietnam and opening up a new era in Vietnamese history – the era of national independence and socialism.
The event will last throughout June.-VNA