A "Colorful life" exhibition featuring paintings by Pham Luc is on show at the Ho Chi Minh City Museum of Fine Arts from now until December 15.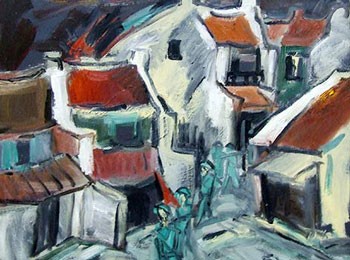 An artwork titled "Ha Noi in 1946" by Pham Luc.
The display includes 65 paintings, mostly in acrylic and oils, that reflect the daily activities of Vietnam's working classes. Some of pieces were inspired by the characters of Truyen Kieu (The Tale of Kieu, a masterpiece by Vietnamese poet Nguyen Du) and Vietnamese legends.
The exhibition is also a review of Luc's 45 years of painting, showing his perception of life and the past.
This year, the painter has devoted his time to charity activities at home and abroad. He sold two paintings and donated US$15,000 to the Fund for Agent Orange Child Victims. He also offered three artworks for auction and donated the US$27,000 proceeds to the Operation Smile Vietnam foundation.
Born in 1943 in the ancient capital of Hue, Pham Luc graduated from the Vietnam Fine Arts University in 1977. He was the first painter in Vietnam to set up a painting club. Established in 2004, the club now has more than 60 members.