On the two days leading up to the tenth full moon of the year, when the rains have ceased and the rice is ripening in the fields, the Khmer people who live in the Mekong Delta province of Soc Trang entreat their moon deity for a bumper crop and good fortune in the festival of Ooc-om-bok.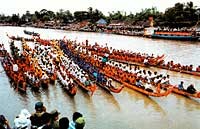 Ngo boat race in Ooc-om-bok festival
It's on this week, which is why the Soc Trang Department of Trade and Tourism is holding a trade fair in the main town, also called Soc Trang, at the Freshwater Lake Cultural Center until Saturday.
In all there are 234 stalls displaying the wares of 112 companies from across the nation.
All the usual stuff is on show like pottery, clothes, footwear, fabric and cosmetics, along with motor vehicles, farm machinery and specialized equipment for fish farming.
There's plenty of entertainment too, in the form of concerts and other stage shows, traditional sports and games, releasing buoyant paper lanterns into the air and onto the river and, above all, watching the exciting Ngo boat races on the river.

The moon-worshipping ceremony of ritual Ooc-om-bok is observed in the yards of the pagodas and private homes.

The people pray for good luck, happiness, good weather and a bumper crop, and express their sadness and worries and pray that their god will bestow favors on them and give them a better life.

Afterwards, they enjoy the offerings together and the children play games or dance and sing in the moonlight. Everyone has a good time and it's a great opportunity for making friends and pairing up.

Soc Trang is in in the Mekong Delta and 230 kilometers from Ho Chi Minh City. Two large rivers flow through the province - the Hau and the My Thanh – and half of Viet Nam's rice is grown in the Mekong Delta.