Public concern has been raised following media reports about false advertisement of products on television.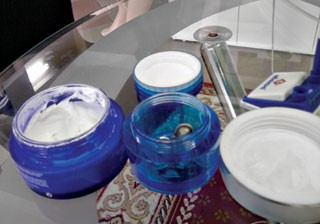 A whitening cream advertised on television
Dao Kim Phu, representative of the Directorate of Broadcasting and Electronic Information under the Ministry of Information and Communication said relevant agencies would review all advertisements on television to correct inaccuracies.
The Directorate of Broadcasting and Electronic Information (DBEI) will review and issue penalties on wrong advertisements by media as well as order television channels, electronic newspapers to strictly obey the law to protect customers' rights.
Mr. Phu admitted that the television channels had violated the law as they have telecast some prohibited products and leaders of these channels must take responsibility for false advertising. In addition, relevant agencies are also held accountable for lax behavior in allowing such bad and inaccurate advertising to take place on television with a view to deceiving customers.
DBEI has recently received complaints from customers about counterfeit products. The Directorate has ordered the channel to stop advertising the fake gold necklace because the necklace is actually made of iron, copper and other metals. Mr. Phu warned of harsh penalties.
Meantime, Dr. Nguyen Van Loi, head of the Drug and Cosmetics Division of the Drug Administration of Vietnam, said that individuals who agreed to telecast the advertisements on public media will be responsible. The Department of Health will henceforth scrutinize all advertisements of cosmetics and drugs.
At present, the Ho Chi Minh City has been asked to verify whether the make-up products were registered and if the contents of the advertisement were factual to what the relevant agency had assessed.