Vietnamese art photographers are shocked with the death of Ms. Ka-Anh (also called Ka-Onh), who was a legendary talent of Viet Nam. The lady died at 2:00 pm on March 7, 2006 at the age of 100.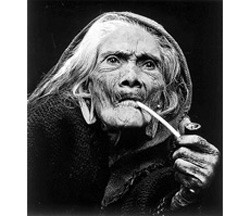 Ms. Ka-Anh in the artwork "Contemplation" of photographer Nguyen Van Danh.
Ms. Ka-Anh, from Chau Ma ethnic group in Rui Dang Village, Loc Lam Hamlet, Bao Loc District, Lam Dong Province, became known as the most "valuable" and successful talent during the past 16 years.
She had countless photos taken by a large number of Vietnamese and foreign photographers – both professional and amateur. Most of these artworks have won domestic and international prizes and made the photographers famous.  
Her portraits were displayed in many countries around the world and selected in a collection of "the world's photography masterpieces".
Her death means a great loss of a legendary live artwork to the Vietnamese art photography. Photographers nationwide have expressed their sincere condolences for this painful loss. A typical artwork of her portrait was placed at her funeral on 8 March 2006. This was the first time such a picture was placed in an ethnic minority funeral. 
She will always be remembered with our sincere gratitude and respect.