Empty seats might characterize most theatre performances of hat boi in the cities these days but this form of opera is still a great hit with villagers in the central province of Binh Dinh.

When the seventh moon of the lunar year was full, thousands of people packed the stadium in Tuy Phuoc commune - the cradle of hat boi - for a stage show in honor of Dao Tan, its legendary founder.

"It's been ten years since I had the chance to see a performance like that," music critic and researcher Vu Ngoc Lien said afterwards. "It was unforgettable. The young cast members like Huong, Loc, Le and Luong were magnificent!"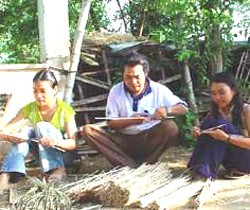 Luong ( C) with his two daughters make fish traps to earn his living
When we arrived at Luong's house, he was making a fish trap with his two daughters, who were also appearing in the evening shows. His wife had left early in the morning to sell vegetables in the market.

"When night falls, we become kings, queens, military commanders. We're a musical family of long standing," Luong said proudly.

His devotion to Vietnamese opera led him to team up with some friends and start a troupe, which they called Nho Hung.

Its members include the 70-year-old stage veterans Kim Anh, Van Trach and Minh Hang, who are as enthusiastic about hat boi now as they were in their prime.

They share the road with other opera troupes just as dedicated and travel to villages in and even outside Binh Dinh to perform in front of audiences as keen on hat boi as are the actors.

Luong's story mirrors the ups and downs of Vietnamese opera in recent decades.

His mother is Hong Loi, who founded the famous An Nghia Loi troupe more than 30 years ago.

When he was still a child, Luong joined his mother's troupe and then another opera company set up by their farming cooperative.

When this second outfit eventually disbanded, he made a living from scriptwriting and performing with other troupes.
A scene is staged by the artists of the troupe Nhon Hung
Ms. Pham Thi Kim Thoa, director of the An Nhon Culture and Information Center, points out that these hat boi exponents can only perform for a few months of the year since they must farm the land to make ends meet.

These days there are a dozen opera troupes in Binh Dinh. Despite all the obstacles, they manage to take their brand of music and acting everywhere.

What's more, they have a greater following than the professional hat boi companies, a fact that doesn't surprise music critic Vu Ngoc Lien since hat boi is traditionally an amateur affair, having been started by farmers wanting to enrich their spiritual lives.