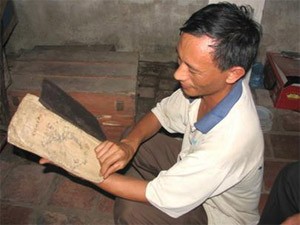 Mr. Tran Van Luu
For generations Tran Van Luu's family has passed down and augmented a valuable collection of books on medicine, geography and a host of other subjects. Numbering more than 200, the books are written in several languages and a few scripts, primarily Chu Han (Chinese characters) and Chu Nom (old Vietnamese characters).

Now the farmer in Thang Loc, a hamlet in Thanh Hoa province, wants the experts to examine the collection and hopefully retrieve much of value to the modern world.
Fortunately for posterity, Van Luu has protected the volumes from mould and infestation using his own special methods of preservation.