The charity fashion show, 'VM Tagged – A Step for Hope,' will make its debut at 8pm February 12 at the Bounce Club, district 1, and will collect donations for Vietnamese disadvantaged children.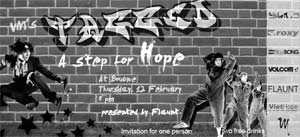 The show's banner
The show, by Flaunt, will present modern designs from two international clothing brands, ROXY and QUICKSILVER. This show is expected to bring a new fashion trend, surf and streetwear, to the city's residents
The proceeds will go to Viethope, a non-governmental organization dedicated to Vietnam's social economic development by supporting the education of financially disadvantaged children. Money raised goes entirely to scholarships and educational infrastructure development.
Tickets are available at the door of Bounce Club from 2pm to 7pm February 10 and 11. Tickets cost VND200,000 ($11.50) and includes two free drinks and a movie ticket at any MEGASTAR cinema.
Tickets will be unavailable on the opening day.