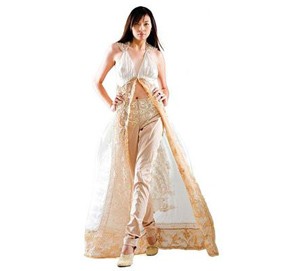 A design of Minh Hanh's latest collection is presented in Italy.
Fashion designer Minh Hanh was recently back to Italy as a guest on the Alle Felde Del Kilimangiaro show on RAI (Italian national Radiotelevision), to talk about modern and traditional Vietnamese fashions to Italian audiences. The program was recorded yesterday and is to be broadcast on Christmas Day of this year.
Minh Hanh will also be introducing her latest fashion collection featuring handmade thread-lace from the traditional craft village of Khoai Noi in Ha Tay Province's Thuong Tin District.
The collection, influenced by classic European styles, is meticulously hand-embroidered with gold-lamé threads outlining camellia flower motifs and phoenix images. The collection was displayed by ten Italian models.
Minh Hanh's "Dragon and Butterfly" collection already made a strong impression in Italy at the Vietnamese fashion show in the Spring Festival held in Rome on June 21.The show was part of "Vietnamese Cultural Month in Italy" taking place from June 16 to July 16.