By the October 1st end of the Viet Nam Collection Grand Prix 2006, the participating young fashion designers had learned some invaluable lessons. The Vietnamese fashion industry needs to step up the investment in, and development of, its factories. Besides the cultural characteristics and sewing technology, the industry must pay attention to its commercial aspects.  The products must be received with unanimous customer approval.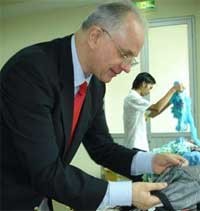 Mr. Garth Armitage
According to British fashion expert and judge at the Grand Prix, Mr. Garth Armitage, the Vietnamese fashion industry is reaching a high level of professionalism.

Regrettably, it has not developed its own brand names to introduce to the world fashion industry and primarily does outsourced work for foreign companies.
"I was highly impressed by several of the beautiful and original collections. Unfortunately, the candidates' collections were used partly for performances on stage and in turn took too long to finish. The effects of candidates' designs would be more useful if they paid more attention to their application in real life like mass production and affordability," declared Mr.  Armitage, in regards to the Viet Nam Collection.
Garth Armitage is a teacher at the London Centre for Fashion Studies in Ha Noi and has spent eight months living and working in the city.