The sixth Vietnam – India people's friendship festival kicked off in Hanoi on October 21, targeting to make Vietnamese and Indian people become closer via a series of cultural and tour events in the city as well as central Da Nang city and Ho Chi Minh City until October 26.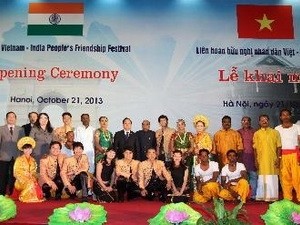 Photo: VNA
Addressing the opening ceremony, Standing Deputy Chairman of the Vietnam Journalists' Association and Vice President of the Vietnam – India Friendship Association (VIFA) Ha Minh Hue said the festival enables the two people to review important milestones in bilateral relations founded by late President Ho Chi Minh and Prime Minister Jawaharlal Nehru and fostered by generations of leaders and people.
During the event, a talk themed "Vietnam – India cultural exchange" and music performances will take place in the central city of Da Nang.
The Indian delegation will offer incense at Indira Gandhi monument and visit Tran Quoc pagoda in Hanoi, explore Champa culture in Da Nang and tour Cu Chi underground tunnels in HCM City.
Both sides will also put forward steps to bolster ties between social organisations in particular, thereby realising the agreements reached by the two nations' leaders.
Vice President of the All-India Peace and Solidarity Organisation (AIPSO) Devi Prasad Tripathi said the festival has lured a large number of Indian people into cementing bilateral relations in different ways.
Tripathi said AIPSO will do its best to satisfy the growing demand of the two people.
He also vowed to stand by millions of the Vietnamese Agent Orange/dioxin victims.
AIPSO General Secretary Pallab Sengupta presented President of the Vietnam Union of Friendship Organisations (VUFO) Vu Xuan Hong with a certificate of merit in recognition of VUFO's contributions to bolstering the friendship between the two peoples.
At the event, VIFA Vice President Vu Quang Diem and AIPSO General Secretary Pallab Sengupta conveyed the message of the sixth Vietnam – India people's friendship festival, which emphasised that the Vietnam – India strategic partnership is a common precious asset of the two nations.
Each Vietnamese and Indian citizen is responsible for treasuring, preserving and bringing into full play that valuable asset, the message said, voicing hopes that the festival will successfully lay down a firm foundation to lift the Vietnam – India strategic partnership to new heights in the future.