The death anniversary of King Hung (Gio to Hung Vuong) will be held from April 7-12 (March 5-10 lunar calendar) on an area spreading from Viet Tri City in Phu Tho District till the coastal commune of the Hung temple monuments.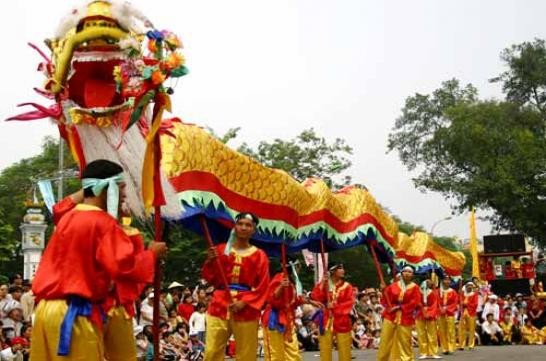 Lion dance performance is performed at Phu Tho District in 2010 to mark the death anniversary of King Hung..
Nguyen Thi Kim Hai, deputy chairwoman of the People's Committee of Phu Tho District said that a series of activities related to culture, sports and tourism will be held in the province with participation from cities and provinces across the nation. She also said that all sacrificial ceremonies will be held at the Lac Long Quan Temple, Au Co Mother Temple and Thuong Temple.
A festival entitled "Getting back to the roots" will also take place in Phu Tho to boost tourism in Phu Tho, Yen Bai and Lao Cai provinces.
The event will showcase a lion dance, a Xoan singing (ancestor worship singing) festival, a contest on making the traditional "banh chung" (square glutinous rice cake) and "banh day" (rice cake) at the Hung Temple.

The province will also organize a seminar on "The worship of Hung kings" as part of the efforts to seek UNESCO's recognition of the festival as an intangible cultural heritage.
The event is an annual occasion to pay tribute to the Hung Kings, whose contribution to the founding of the nation is recognized and respected as well as to show love and pride for the country.
Legend has it that Lac Long Quan was a dragon who met and married fairy Au Co, who later gave birth to 100 eggs from which 100 children were born. The couple then parted ways due to their different origins. The man went seawards with 50 of their children, while his wife went to the mountains with the other half of the clan.
The eldest son, who followed his father, later crowned himself as Vietnam's first Hung King and the present Vietnamese people are said to be descendants of his children.