"Long Thanh cam gia ca" (The Fate of a Songstress in Thang Long), directed by Dao Ba Son, won the "Golden Kite 2010" award at a ceremony in Ho Chi Minh City on March 13.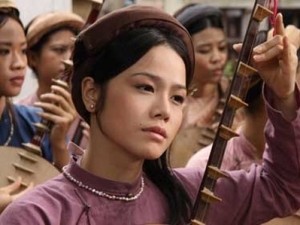 A scene in "Long Thanh cam gia ca" (Source: Giai Phong Film Studio)
The Silver Kite awards went to Vu Dieu Dam Me (Passion Dance), Khat Vong Thang Long (Thang Long Aspiration) and Canh dong Bat tan (Floating Lives).
Vu Dinh Toan starring in Long Thanh cam gia ca" won the "Best actor" title and Ninh Duong Lan Ngoc in "Canh dong bat tan" received the "Best actress" award in the Feature Film category.
While Vo Thanh Hoa of "Floating lives" and Cao Thuy Duong of "Vu dieu dam me" won best supporting actor and actress, respectively.
The organising board, the Vietnam Cinematography Association, also presented Golden Kite awards to video film "Bi thu tinh uy" (Provincial Party Committee Secretary), documentary film "Toi Ac Rung Xanh" (Forest Crime) and 3-D animated film "Nguoi con cua Rong" (Dragon's son).
The Golden Kite 2010 awards ceremony was part of the Vietnam Film Day, March 15.