A former member of boy band 'GMC' and soloist, Ung Dai Ve, is being filmed for 'Anh Mat Tin Yeu' (The eyes of love and belief), an independent production that will hopefully be aired by KBS, South Korea's leading public service broadcaster.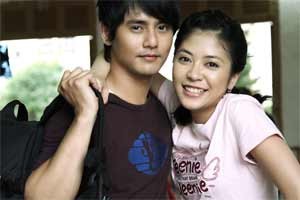 Ung Dai Ve (L) and Ruby Hanh (Photo: Hiep Khach)
The project is the brainchild of two young Vietnamese directors, who have just graduated from their directing course in Korea and currently work for KBS. The film will also be co-directed by two local directors.   
The film will jump back to the moment Ve decided to drop out of GMC and begin a solo career. The difficulties, the problems, obstacles, ups-and-downs, loneliness, happiness and sadness, tears and smiles, everything about Ve will be pictured in the 45-minute film.  
Ung Dai Ve will play himself and Ruby Hanh, one of the two Vietnamese directors, will play Hanh, a crazy fan who watches his every move and supports him whenever he needs it.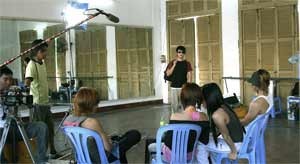 Ung Dai Ve on the set of Anh Mat Tin Yeu (Photo: Hiep Khach)
The film will also include the talents of Meritorious Artist Kim Xuan, as Hanh's mother. Popular comedian Mac Can and one of the leading dance groups, the Freestyle, will also appear as special guests. 
The film will be shot at various locations: HCMC Labor Culture Palace in district 1, the Student's Culture House in district 3, the Thao Dien Village in district 2 amongst others.  
Shooting will take one month before being edited in South Korea. The film will be available with Korean subtitles and be previewed at some Korean universities before being submitted to KBS.