The annual fine art exhibition by the painting club Mekong Art was inaugurated at the offices of the HCMC Fine Art Association, district 3 February 23 and remains open to the public until March 4.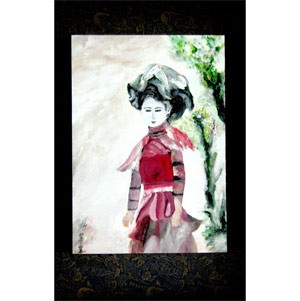 'Thieu nu cao nguyen' ('Highland girl') by Do Thien Huong (Photo: Truong Son)
The 2009 exhibition presents 100 art works from various fields, such as painting, statues, terracotta and sculptures, by its 30 members, including Le Trieu Dien – chairman of the club, Le Kiet – vice chairman, Ai Lan, Nam Anh, Luong Truong Tho, Dang Thuan, Marie Clare and Do Thien Huong.  
Every member participating in the exhibition chose a different inspiration and a different way to express life. Some chose the landscape while others chose still-life, portraits and women.  
The organizers expect this to be a good occasion for painters to meet their fans, and to discuss and share their love of fine art with them.  
Earlier this year, the Mekong Art club held a successful poetry festival, which attracted many poetry lovers at the Van Hanh Monastery in Phu Nhuan District.  
After the fine art exhibition, the club will continue with other projects, like the art exhibition at Ho Tram Beach Resort & Spa and an international exhibition of the art of arrangement at the Beach Festival 2009 in the southeastern province of Ba Ria – Vung Tau.  
The Mekong Art club was established in 1996 by the painter, and a former chairman of the club, Nguyen Chuong.  
The club had a change of board in 2005, with a new chairman, the painter Le Trieu Dien, and two vice chairmen, Le Kiet and Ngoeo. The club works under the umbrella of the HCMC Fine Art Association  
At present, the club has 30 members from various regions in the country, of which six are also the members of the HCMC Fine Art Association.