In recent years, Viet Nam's advertising industry has played an active role in, and contributed greatly to, the country's economy. The Ministry of Culture and Information is holding a first time exhibition titled "Viet Nam Advertising – Innovation and Development."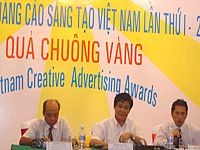 A press conference on Vietnam Creative Advertising Awards
The exhibition aims to showcase the various achievements of the advertising industry as well as promote the images and brands from numerous advertising companies.
It will also enable industry players to network with one another as well as seek new businesses and establish contacts with prominent business leaders.
Some main activities include the cooperation and promotion of advertising contracts, an international conference on advertising, introducing Viet Nam's advertising vision, and the new products and services from the exhibition's participants.
These participants include Viet Nam state management agencies of the advertising industry, local and foreign advertising companies, and both broadcast and print media.
The opening ceremony will be held November 2, 2006, said an official representative of the organizers.
The event is made possible by the organization of the Service of Culture and Information, the Viet Nam Advertising Association (VAA) and the Ho Chi MInh City Department of Culture and Information.
Organizers also announced that the closing ceremony, and fifth anniversary of the founding of the VAA, will be broadcast live on VTV November 5, 2006.
Included will be an advertising award and a national award presented by a representative from the Ministry of Culture and Information on the closing day.
The exhibition will be on display from November 2nd to the 5th at the Youth Culture Palace, 4 Pham Ngoc Thach Street, District 1.
For further information, see the website www.quachuongvang.com.vn.