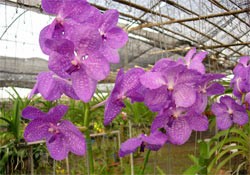 Photo: KK
Ho Chi Minh City's first ornamental creature festival will take place on September 2, the Independence Day, in the area of the City Hall.
The ornamental creature festival consists of such activities as pet fish contest, and exhibition of ornamental fish, orchids, ornamental trees, bonsai and rock-garden.
Besides, there will be seminars about ornamental creature professions (market, training, technology and preservation) and technical services and materials used for this career.
Participants are members of Ho Chi Minh City's ornamental creature association, businessmen, gardeners in Ho Chi Minh City and throughout the country. The festival is also attended by artists from Indonesia, Singapore and Malaysia.