British Council, the National Library, Ho Chi Minh City Book Distribution Corporation FAHASA and the Oxford, Pearson Longman and Youth Publishing Houses will organize "World Book and Copyright Day" on April 22 in 31 Trang Thi Street, Ha Noi and April 23 in New World Hotel, 76 Le Lai Street, Ho Chi Minh City.

This is the first time Viet Nam's national library celebrate this event. This activity is for greeting the 10th National Party Congress.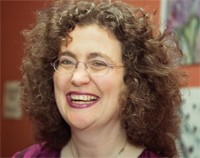 Ms. Cassandra Wye, the story teller ( Photo: Quang Tuan)
To celebrate this Day, UNESCO expects people to pay a world-wide tribute to books and authors on this date, encouraging everyone, particularly young people, to discover the pleasure of reading and gain a renewed respect for the irreplaceable contributions of those who have furthered the social and cultural progress of humanity.
This year, the British Council, in partnership with Oxford University Press, Pearson Longman, Ho Chi Minh City Book Distribution Corporation FAHASA, Youth Publishing House and Lego is organizing a World Book Day with full range of exciting activities: Reading and sharing; Spread the world; Story telling presented by a British specialist, Cassandra Wye; Display of new books, Lucky Draw with more than 250 prizes awaiting visitors.
23 April: a symbolic date for world literature, for on this date and in the same year of 1616, Cervantes, Shakespeare and Inca Garcilaso de la Vega all died. It is also the date of birth or death of other prominent authors such as Maurice Druon, K.Laxness, Vladimir Nabokov, Josep Pla and Manuel Mejía Vallejo.
The idea for this celebration originated in Catalonia where on 23 April, Saint George's Day, a rose is traditionally given as a gift for each book sold.
Source: UNESCO
World Book and Copyright Day - April 23, 2006
http://portal.unesco.org/culture/en/ev.php-URL_ID=5125&URL_DO=DO_TOPIC&URL_SECTION=201.html