The fishermen on Bich Dam Isle in Nha Trang celebrated 'Cau Ngu' (Pray to the Big Whale) over May 1 – 3. The festival is held to honor the Big Whale and pray for a good catch of fish.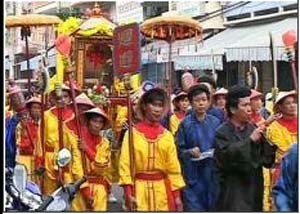 Fishermen parade for Cau Ngu
The Cau Ngu Festival is an annual event for the fishermen, which originated from the province of Quang Binh.  
This year, the Bich Dam Isle' fishermen decided to hold the celebrations one week earlier than usual.  
The festival features variety of entertainment and religious events. 
Incense is offered to the fairies, ancestors and also local martyrs. Fishermen visit and burn incense at Nam Hai Temple, worship the founder of the isle and pray for peace and a good catch of fish. 
The most anticipated event is Ba Trao singing, where fishermen pray for peace and good catches.  
This festival is one of the various events for the Nha Trang Festival 2009, with most events to be held in June.