There will be five competition categories in the Vietnam Dog Show this year, which will be held in Ho Chi Minh City on December 29 and 30, announced the Vietnam Kennel Association (VKA), a member of the Asia Kennel Union (AKU).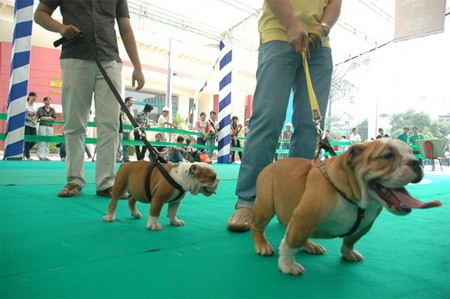 Participants in the VKA Championship Dog Show 2009
They are the VKA Championship Dog Show and VKA Phu Quoc Dog Show on Saturday, December 29; the AKU Championship Dog Show, Phu Quoc National Specialty Dog Show and FCI (Federation Cynologique Internationale) Championship Dog Show. More than 150 dogs will be featured in the Vietnam Dog Show 2012.
The event will take place at Phu Tho Outdoor Stadium on 1 Lu Gia Street in District 11. Dog lovers can come and view their favorite breeds at the venue.
Neighboring countries such as Thailand, Malaysia and Indonesia will take part in the competition.
Two Phu Quoc dog contests at the same time will promote the country's unique dog to the FCI committee to enable it to compete at international contests. VKA aims to seek world recognition for Phu Quoc Ridgeback, a native breed on Phu Quoc Island in Kien Giang Province.
Two Phu Quoc ridgeback dogs attended the World Dog Show 2011 held in Paris in which there were eight levels of competition, Baby (3-6 months), Puppy (6-9 months), Junior (9-18 months), Intermediate (15–24 months), Veteran (eight years and above), Open (from 15 months), Working (from 15 months with certificates) and Champion (from 15 months with certificates).
Those who want to present their dogs at the show can register on www.vka.vn, before December 26.
Last year, the Vietnam Dog Show took place at Phan Dinh Phung Sports Center in District 3.