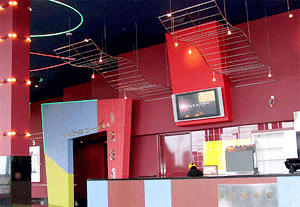 The Cineplex in Vincom City Towers, Ha Noi
Megastar, a joint venture between Envoy Media Partners Limited (British Virgin Islands) and Phuong Nam Corp (Viet Nam) will invest US$25 million to build five cinema complexes in TD Plaza (Hai Phong City), Big C (Ha Noi), Saigon Co-op Bien Hoa (Dong Nai province), Hung Vuong Plaza and Saigon Paragon (Ho Chi Minh City) in 2007.

Reportedly Megastar opened the first cinema complex Cineplex in Vincom City Towers, Ha Noi, with eight cinemas and more than 1,100 seats in April, with the investment capital of US$5 million.
After three months' operation, the Cineplex attracted more than 100,000 audiences and achieved the highest turnover in comaprison with other cinemas in Ha Noi.
Besides, Megastar is also a sole distributor, delegated by two Hollywood's leading distribution firms of United International Pictures (UIP) and Buena Vista International(BVI) to release films, including Mission Impossible 3, Pirates of the Caribbean 2, Miamice Vice, Word Trade Center, Santa Claus, etc