The city's hallmark Flower and Book Street is now ready to welcome visitors from the evening of February 5.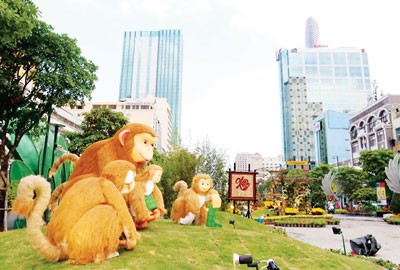 Nguyen Hue Flower Street 2016
The much awaited annual flower show themed "Peace, Prosperity and Development" will spread from Nguyen Hue-Le Thanh Ton crossroad to Nguyen Hue-Ton Duc Thang junction with a total length of 720 meters.

The flower street will be divided into three sections featuring different sub-themes: "Solidarity-Gratitude", " Dynamic-Creative" and " Integration-Development".

The area around Statue of late President Ho Chi Minh will be filled with 36 giant pots of yellow apricot blossom trees.

A family of nine monkeys will be placed along the street as sacred objects of the year.
The much awaited annual flower show is one of the events receiving the highest expectations of the public. The event is aimed to highlight of Tet culture in Ho Chi Minh City and has been held for 12 consecutive years and attracted more than one million visitors each year.
Launched for the first time in 2011, the Street Book Festival aims to promote reading and increase knowledge of the culture, traditions and tourism of the city.

The event will make an impression on visitors with a replica of the landmark reiterating Vietnam's sovereignty over the sea and islands of Vietnam, an exhibition area on President Ho Chi Minh, together with various activities such as exchanges between writers and readers.