The Foreign Ministry and 30 foreign embassies in Hanoi hosted a food festival on January 24 in a bid to promote cultural exchange among nations and raise funds for orphans and the disabled.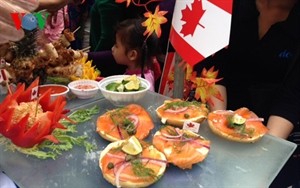 Dishes at Canadian stall. Photo: VOV
More than 4,000 people flocked to the event, where the embassies put on show the specialties and unique souvenirs of their countries, while the local participants served traditional food, many of which have become popular among foreigners.
With more than ten traditional dishes, the Canadian stall drew much attention of visitors.
Kimchi soup and Kimbap of Korea also attracted crowds, especially Vietnamese.
Meanwhile, many foreign visitors showed interest in spring rolls and fried fermented pork rolls, two favorite Vietnamese dishes.
As Tet (Lunar New Year) is approaching, many Vietnamese stalls introduced traditional dishes for the holiday - the most important Vietnamese festival. Vietnamese sausage, Chung cake and watermelon received a warm response.
Festival-goers also had a chance to enjoy dances and fun-filled sport performances by foreigners.
The first food festival was held successfully on March 8 last year, attracting more than 2,500 visitors.