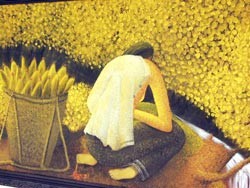 "Maize season", one of his paintings
Vo Trinh Bien of Da Lat city, who is famous for painting with his index finger, on Friday surprised visitors once again with his third exhibition "A half", which, he said, is a gift to women on the Vietnamese Women Day.
The gallery displayed 40 oil paintings revealing women's beauty, supposedly not only their physical beauty but also their minds, their desires and the moments of meditative silence.
After the exhibition, he gave a half of its takings to the fund for the poor in his hometown.
The painter with no brushes and no easels, who owns a small but always crowded gallery in Da Lat, introduces more than 200 paintings a year.