German conductor Gudni Emilsson, Korean violinist Yoon Jin Kim and the Vietnam National Symphony Orchestra will perform at the Ha Noi Opera House on December 20-21.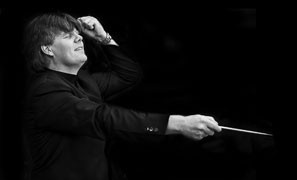 German conductor Gudni Emilson
The concert will feature masterpieces like Overture "Egmont" Op. 84 by Beethoven, Concerto for Violin and Orchestra in D major Op. 35 by Tchaikovsky, and Symphony No. 4 in A major Op. 90 by Felix Mendelssohn.

Mr. Emilsson, 44, was born in Reykjavik, Iceland, and learnt to play the violin before receiving a scholarship to graduate with a master's degree in piano and conducting from Trossingen, Germany.
He has won prizes from the Herbert von Karajan Foundation and the Richard Wagner Foundation and was honored by the Deutschen Musikrat (German Music Council).
He has served as artistic director of the Tübinger Kammerorchester since 1999 and of the Camerata Bohemica Prague and Thailand Philharmonic Orchestra since 2005.
He has appeared as a guest conductor of numerous orchestras and ensembles in Europe, the US, Brazil, and Vietnam.
Ms. Kim was introduced to music at a young age in Germany at the Tossingen University of Music Preschool for Talented Youth.
She graduated from the University of Music in Stuttgart in 2005 and continued her studies at the Zürich and Würzburg music universities where she studied under such renowned violinists as Svetlin Roussev, Hery Luc, and Josef Kopelman.
She received the Jugend Musiziert award and won prizes in the Valesesia Music and Premio D'Oro competitions.
She has been invited to perform at festivals and master classes as well as by orchestras in Germany, Europe, Thailand, south Korea, and China.