A foreign-language book exhibition featuring around 3,000 titles worth VND4 billion (US$246,000) is taking place at the Xuan Thu Bookstore in Ho Chi Minh City.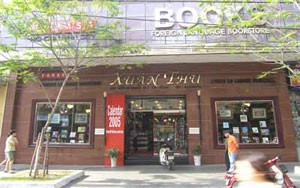 The Xuan Thu Bookstore
There are many books with updated information of on various subjects including languages, economics, education and science and technology, especially textbooks and reference books used at universities.

The Pearson Longman Dictionaries are being offered at a 30% - 50% discount from December 21 to 25.
The book show co-organized by the FAHASA Ho Chi Minh City Book Distribution Corporation and the U.S' Pearson Publishing House will last to December 31.

Pearson is one of the world's leading publishers producing best-selling student texts, innovative digital management tools for head teachers, and generic learning systems for post-16 institutions.