The 2004 Miss Universe, Jennifer Hawkins of Australia, is spending 15 days in Viet Nam to make an episode of the television program "The Great Outdoors" for Australia's Seven Network.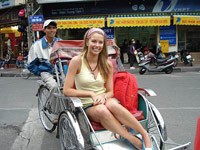 Jennifer Hawkins taking in the sights of Ha Noi
Her travels with the film crew have already taken Ms. Hawkins to the standard tourist destinations of Ha Noi, Hue, Da Nang, Hoi An, Quang Nam and Mui Ne.

In the national capital, where the temperature was below 20oC (cold by the standard of many Vietnamese people), the Aussie beauty sat in a cyclo and took in the sights wearing only a thin sleeveless shirt, denim shorts and a radiant smile.

She was more than happy to be photographed, sign autographs and speak with people on the street.

The former Miss Australia and choreographer says she is always striving to improve herself and carry out the mission of a beauty queen, a mission entrusted to her as a symbol of peace and humanity on her trips around the world for two years after winning the title.

"The crown helped me to live actively and better, but it has not changed my nature," Ms. Hawkins told reporters.