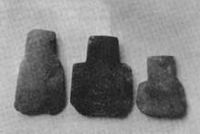 silica axes were discoved in Central Province of Thua thien -Hue
According to Quang Binh Museum, its staff collected four silica axes scattered in the Khe Rung and Ca Roong mountainous villages, Thuong Trach Commune, Bo Trach District bordering on Laos.
The four axes of the New Stone Age are evidence of the existence of primitive people in the area.
Besides, 38 other objects of ethnic minorities were also collected during the field trip by the museum's officers. They consist of Ma Coong tribe's tools for work such as papooses, baskets, home-made rifles and musical instruments, jewelries, etc.