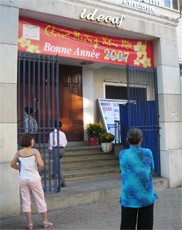 IDECAF cinema (Photo:KK)
A French film festival is taking place at the HCM City-based Institute for Cultural Exchange with France (IDECAF) from now until March 10th to mark the 10th anniversary of cooperative ties between HCM City and the Rhone-Alpes region of France.
Films to be featured at the event include a documentary film entitled Frères Lumières, to be screened at the opening ceremonies on March 8, One Swallow Brought Spring by director Christian Carion, an animated film called Folimage and others.
The free event is co-organized by the French Consulate General in HCM City and the city's External Relations Office.