Four musicians from the French band Beltune will create a gypsy environment for the first time at a Hanoi gig on May 13.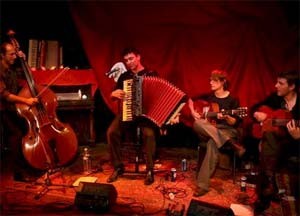 Beltuner L-R: Nicolas Pautras – Johann Riche – Arnaud Soidet – Pascak Muller
The French musicians will perform diabolical rhythms of gypsy music – the waltz's whirl, the tango and the nostalgia of Ballads from Eastern Europe.
Their energy promises to make the concert an adventure of music for listeners.
The band is: Johann Riche (accordion), Pascal Muller (guitar), Arnaud Soidet (guitar) and Nicolas Pautras (double-bass).
Tickets are available at the L'Espace box-office: VND50,000 (US$3) and VND25,000 (US$2).
Bookings can be made via the hotline:
(+84-04) 936 2164.
The performance starts at 8pm, L'Espace, 24 Trang Tien.
Vietnam is the final stop of their Asia tour, which has already visited Singapore and Malaysia this month. They will return to France to start a national tour.
The gig is organized by the French Cultural Centre in Hanoi.