French pianists Denis Evesque and his wife Agnès Huber-Evesque will perform at Ho Chi Minh City's Institute for Cultural Exchange with France (IDECAF) on Saturday (November 1)
.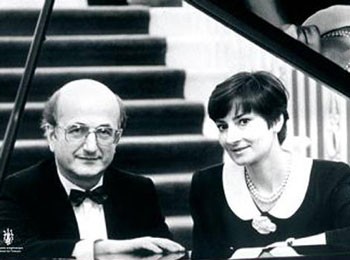 French pianist Denis Evesque and his wife Agnès Huber-Evesque
They will play masterpieces by Johannes Brahms, Franz Schubert, Darius Milhaud, Maurice Ravel, and Emmanuel Chabrier.
Denis used to be a teacher at the Marie Curie High School in HCMC and director of Idecaf 37 years ago.
He has toured many countries, including Switzerland, the UK, Ireland, Germany, Austria, Italia, Hungary, and Spain.
Born in Hungary, Agnes graduated from the Gyor Conservatory. She then moved to Austria where she studied at the Music Academy in Vienna, obtaining a D.F.E. in 1974.
From 1975 to 1979 she taught at the Vienna Municipal Conservatory and continued her piano studies at the Chigiana Academy in Siena.
Since 1978 she has been performing along with Denis, participating in festivals in France and around Europe, notably the Austrian Summer Festival in Vienna, the Spanish Festival in Pal, and the "Flaneries Musicales" in Reims. Agnes has also been teaching the piano at France's l' Ecole Koenig school since 1997.
Free tickets are available for the concert at Idecaf, District 1.